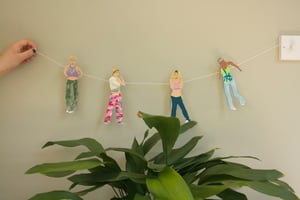 £

4.00
Garland of the All Saints
All 4 Saints included but their clothes are boring and white: that's where you come in! Design the fashions on these smokin' urban divas. You could use paint, glitter, tinfoil, even pasta, or shells! You are limited only by your imagination! Then cut them out and attach them to the string included. Hang them anywhere you like and show them off to your friends and cousins.
Everyone will love them!
Especially All Saints fans.
Melanie - Shaznay - Nicole - Natalie
Pure shores 4eva